BASIC STRATEGY GUIDE: STEP 20

Activity Three: Develop a pricing policy to improve the Company's market share and returns.
Step 20: Set Objectives and Pricing Guidelines to exploit near term price opportunities.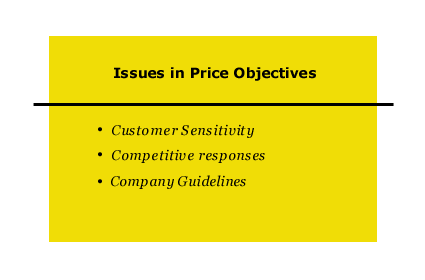 What:
Develop specific objectives and guidelines for the pricing tactics to use with each Very Large and Large customer. Complement these objectives with broader guidelines to use with Medium and Small customers. To reach these objectives, consider the level of price sensitivity among customers and the likelihood that competition will attempt to counter our pricing moves.
Why:
The industry price outlook tells the Company the kinds of price pressures it is likely to face over the next three to five years. This step addresses the pricing guidelines the Company will need in order to improve its profitability within the next 12 – 18 months. This step leads to specific plans for each important customer.
What to Watch For:
Action:
Set specific pricing objectives for each current and potential larger customer relationship and develop broad guidelines to use with current and potential smaller customers.
More Information on Company Price Environment the Advanced Site >>
For helpful context on this step:
Videos:
Perspectives:
Symptoms and Implications: