Analysis 41: Price Point Product Mix by Competitor
EXHIBITS: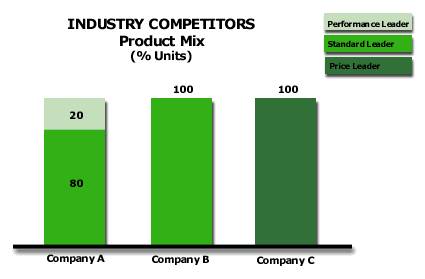 HOW TO INTERPRET THE ANALYSIS: This exhibit shows the product mix, in percentage of the total units sold, of three companies in the industry. Company A has 20% of its sales in Performance Leader products and 80% in Standard Leader. Company B has 100% of its sales at the Standard Leader Price Point. Company C sells only Price Leader products. Company C would probably be a private label supplier in a consumer market or a low-end specialist in a non-consumer market. Company A has the most attractive product mix because margins usually are related to Price Points, with higher Price Points carrying higher margins than lower Price Points.

PURPOSE: This analysis helps the company infer likely differences in profitability of competitors due to their product mix. It might also warn of potential volume loss to competition.

APPROACH: This analysis is most effective when done on the basis of units. However, if units are not available, the company may use dollar sales.

Very often, these estimates result from a combination of sales force and marketing staff estimates along with data gathered from customers and industry associations.

The analysis may be extended to include a weighted average unit margin by price point. In most markets, Performance Leader products have higher margins than do Standard Leader products, which in turn have higher margins than Price Leader products.

If the company finds that it is underrepresented in Performance Leader products, it may want to make strenuous efforts to develop and sell those products into its target Core customer segments. On the other hand, if it finds itself lacking in Price Leader product share, then it should consider whether it needs to add better coverage to that product price point in order to meet current or emerging needs of its target customer segments and to protect its volume from "failure."

Examples of:
Standard Leader » Performance Leader » Price Leader » Next Leader » Industries With Four Price Points »

For a greater overall perspective on this subject, we recommend the following related items:

Analyses:

Symptoms and Implications: Symptoms developing in the market that would suggest the need for this analysis.

Perspectives: Conclusions we have reached as a result of our long-term study and observations.