BASIC STRATEGY GUIDE: STEP 15

Activity Two (Steps 13-18):
Develop new products and services to gain share with Core Customer segments.
Step 15: Evaluate the Company's success in penetrating each Price Point in the market.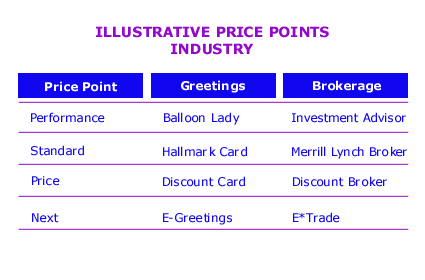 What:
Determine whether the Company needs one or more new PricePoints to match competitors serving core customers. In making this determination the Company should determine its current penetration of each Price Point in the market and evaluate the cost of providing these to core customers.
An industry may see up to four separate Price Points:
Just as there are four product Price Point types in the market, so there can be up to four company types. The four company types have the same names as the product Price Points, as they specialize in the production and sale of one of these Price Points.
Why:
As an industry develops, product Price Points may vary in their growth rates and relative profitabilities. The Company must offer all Price Points that core customers would like to buy. The Company must offer any Price Point that might increase share with core customer segments in the market place, or it risks "failing" its target customer segments. The Company may not ignore, or even withdraw from, Price Points that its target customers continue to purchase. If it should not offer one of these price points, it opens up some or all of its customer relationships to other competitors in the market.
In addition to the avoidance of "failures" with customers, some product innovations in the next Basic Strategy Guide steps may require new Price Points. These innovations have unit costs and benefits that are quite different from those Price Points already on the market. Accordingly, the Company would normally establish separate Price Points for any innovation whose total costs per unit of product is different by 10% or more compared to another Price Point in the market.
What to Watch For:
Action:
Ensure that the Company offers good products at each Price Point that its core customers purchase. Develop new Price Points where the Company may offer a core customer segment an attractive value proposition.
More Information about Four Price Points on the Advanced Site >>
More Information about Price Point Bias on the Advanced Site >>
For helpful context on this step:
Videos:
Perspectives:
Symptoms and Implications: