BASIC STRATEGY GUIDE: STEP 4

Activity One (Steps 1-12):
Segment customers, both by size and by need, to identify targets for the Company.
Step 4: Place the industry's total purchase volume on the Customer Size/Supplier Role matrix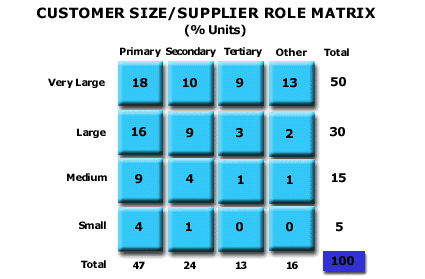 What:
Array the total market's purchase volume into a matrix. Each position on the matrix is a combination of Customer Size and Supplier Role. The total industry market share available at each position on the matrix is a segmentation of the industry based on the sizes of customer relationships.
Why:
This matrix portrays customer size segments more accurately. A company may fill only one role with any customer. Four positions on the matrix make up the Heart of the Market, which is where most of the market's volume resides: Primary and Secondary positions with Very Large and Large customers. The Company must be strong with one or more size segments in a Primary role relationship.
What to Watch For:
More than three Supplier Roles often indicates several regional markets where customers in each region have two to three suppliers. When these relationships and regions of the customer are combined, there could be five to eight suppliers in the customer's total relationship.
The industry, or any customer size category, may be either consolidating or de-consolidating purchases. This presents both risks and opportunities.

As industries mature and especially as they become hostile, the industry's sales volume consolidates to the Heart of the Market.
Action:
Concentrate the Company's analyses of the size segments according to their greatest potential volume for the Company. Complement this set of priorities with the results of the next step.
More Information Size of Roles on the Advanced Site

For helpful context on this step:
Videos:
Perspectives:
Symtoms and Implications: