BASIC STRATEGY GUIDE: STEP 10

Activity One (Steps 1-12):
Segment customers, both by size and by need, to identify targets for the Company.
Step 10: Compare the Company to the industry on the components of volatility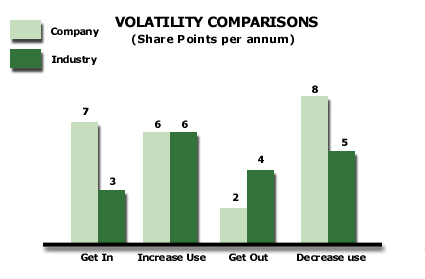 What:
Compare the Company's performance on each of the four types of volatility to that of the industry to identify the most important causes of the Company's net volatility results.
Volatility has four component parts. Positive volatility occurs when the Company gains new volume from Get In and Increase Use events with customers. Negative volatility occurs when the Company loses sales volume to another competitor through Get Out or Decrease Use events.
Why:
This analysis enables the Company to be more exacting in choosing its target segments and in designing the product and service improvement program necessary to serve those segments well. By analyzing the Company's performance against the industry on each of the four components of net volatility, the Company further defines its areas of strength and weakness.
What to Watch For:
Action:
Develop a good understanding for the reasons the Company out performs or under performs the industry on each component of volatility. Pay particular attention to the Company's net volatility in its tentative target segments, where these target segments are defined by positions on the Size/Role Matrix.
More Information on Company Share Change and Volatility on the Advanced Site >>
For helpful context on this step:
Videos:
Perspectives:
Symptoms and Implications: